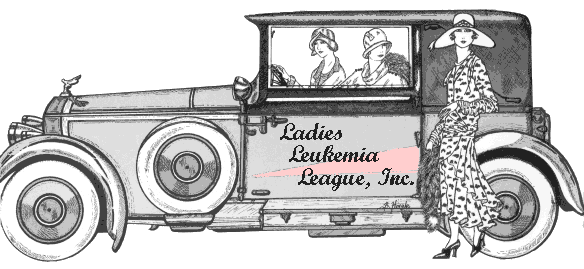 ---
The Ladies Leukemia League of the Gulf South (LLL) is a non-profit organization founded in 1969 by a group of ladies dedicated to finding a cure for leukemia.

Our major fund raiser - the FÊTE de NÖEL Luncheon and Fashion Show - has become the most successful and well attended charity luncheon in New Orleans.

Proceeds from this luncheon are used to fund grant proposals submitted by medical researchers at institutions in the Gulf South Region (Louisiana, Texas and Mississippi) to our panel of six volunteer physicians.

Ours is a volunteer organization which functions without a paid staff, but rather with dedicated members who work year round to bring hope to the millions who suffer.

Please refer to the TABLE OF CONTENTS for a description of the information included in these pages.

Thanks for stopping by!
Ladies Leukemia League, Inc.
P.O. Box 9355
Metairie, LA 70055-9355
I.D.# 72-0997410



We are grateful to the late
BETH HINGLE
for the artwork
appearing on these pages,
created by her
especially for LLL.
This website contains copyrighted material.
All rights reserved.



---
Last revision: August 25, 2012

You are visitor number
since July 1, 2000 dovie